It truly seems like the season for babies in my little corner of the world as my mailbox has been inundated with a steady flow of baby shower invitations lately. Having an infant of my own makes me feel kind of like an expert at baby stuff as I'm still 'in the know' about the latest and greatest, life-changing, must-have items for baby. I've learned a lot over the past year and have realized that babies really don't need all that stuff that are advertised to mommas-to-be. Seriously, between wipe-warmers and changing table pads, what do you really need?!? If you're expecting a little one and creating a registry of your own, or if you're looking to purchase a baby shower gift, read on & I'll share with you some of my practical favorites.
This time last year I was busy creating the baby registry for my own sweet bundle of joy. I spent HOURS scouring mommy blogs and websites for advice and reviews of baby gear to make sure I made the best possible decisions for my little guy. After a few days of searching sites, I really wished someone would just hand me a list of everything you really need for baby. I found myself stuck between two extremes when it came to baby necessities–"your baby needs all the gadget"s, or "your baby just needs diapers". I knew there had to be some middle ground & that's what I was striving for as I created my baby registry.
First and foremost I wanted to make sure the items I purchased for my sweet bundle of joy were safe; if I read a review alerting me to any kind of dangerous or potentially unsafe scenario, I immediately switched gears and looked at other items.
The next important aspect I looked for in baby gear was baby's impression of the product. Some products look good and sound great in theory, but in real life don't really live up the hype–I found this to be true as I read through reviews of several items. Quite a few 'must-haves' had less than glowing reviews and indicated that baby just wasn't interested or didn't like the item, even after many experiences with the product. If I read more nays than yays, I marked that item off my list, and looked elsewhere.
Another biggie I looked at when making decisions about baby gear was the price. I tried to be realistic and practical when planning for my little fella's needs and resisted the urge (the sometimes ever-so-strong urge) to go overboard with extravagant, excessively overpriced items that he would outgrow in just a couple of months. Some blogs and baby planning websites listed only high-end products as necessary for baby–I know babies are expensive, but some of these items crossed into ridiculousness. Honestly some of these sites made me feel like I was destined to be a sub-par parent if I didn't splurge for the bouncers and bassinets that could be controlled by my smart phone or the Keurig-like automatic baby formula maker. I'm sure these items may make life a little easier for mom & dad, but are those items necessary for a happy baby??? Again I looked to product reviews to help me make these important decisions and more than often than not found that, although the bells and whistles are fun for moms and dads, some babies liked the high end products and others did not. What if my little guy fell into the group that didn't care for the item that cost the equivalent to six months worth of diapers? I decided that diapering my baby for six months while he bounced in the less expensive bouncer–with great product reviews–was the best decision for our family.
Finally, after all the researching and comparing, I was ready to commit to items and officially add them to my baby registry. I felt that I had finally found my middle ground & I'm happy to share with you some of those items below.
Please note that I'm sharing items that work/worked well for my baby and our family. All babies are different & have different preferences. 
Gear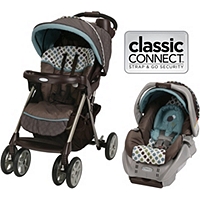 I chose a travel system because I wanted an infant carrier as I felt this would be useful for our family's lifestyle. This particular travel system had great reviews and a good price. My little guy is almost 9 months old and he is still using the infant seat, however we will be transitioning him to his car seat within the month. We have gotten lots of use out of both the infant carrier and stroller and have been extremely pleased with the performance of both. The carrier is easy to use and maneuver and, most importantly, my little fella feels cozy and secure in the carrier. The stroller is durable, fits well in the back of our small SUV, is EXTREMELY easy to open, comfy for it's precious passenger, has plenty of space for his stuff as well as mine, rides well on smooth and rough, outdoor terrain, and is very lightweight. I could not ask for more in a carrier and stroller.
In all honesty, a bassinet is not necessary. A Pack & Play would do just as well situated in the bedroom until you're ready to transition your baby to his/her own crib. However, I wanted to keep my newborn in very close proximity to me without co-sleeping–co-sleeping just wasn't an option for us as my husband pretty much does somersaults in his sleep. The Pack & Play would've been situated too far from my bed for my liking, so I opted for a bassinet instead. When I began researching bassinets, I found that I needed a mobile bassinet that I could move easily when I needed to get in and out of bed. This Delta bassinet had everything I was looking for: comfy for baby, easy portability with lockable casters, a storage compartment underneath for easy nighttime diaper changes and feedings, a dim light, and music (I didn't really use this option as I found a couple of favorite children's music stations on Pandora that my little guy & I love), and the price was definitely within our budget. This bassinet worked beautifully for us & I was sad when my sweet boy outgrew it & graduated to the mini-crib (still located in my bedroom).
Okay, I must admit that when it came to bouncers & swings, I had my heart set on the 4 Moms Mamaroo…but the Mamaroo has a hefty price tag at $269.99. I searched Ebay and secondhand children's stores, & while I found some okay deals on used Mamaroos, when it came to making the purchase I just couldn't justify spending that much money on something my son would use for only three months. Additionally, there was no guarantee that he would like the Mamaroo, so I began searching for more affordable bouncer alternatives. The reviews on this Ingenuity bouncer were good & it seemed to be a solid product. The bouncer worked well for us. My son was happy and content when we placed him in the bouncer, and he loved investigating the little toys dangling above his head. It was very lightweight and easy to move from room to room and fit nicely in small spaces. The music, nature and heartbeat sounds were soothing for both baby and me. I am glad we chose to go this direction as we were able to use the leftover money on lots of diapers. #LotsOfDiapers
Okay, so everyone may not be interested in going the mini crib route, but when my fella outgrew his bassinet I was not ready to move him to his nursery AT ALL. In fact, he is 8 months old and still sleeping about two feet from me in his mini crib. A Pack & Play would definitely work well for a sleeping option, but I didn't want to transport the Pack & Play from living room to bedroom each morning and night. I wanted a more permanent sleeping arrangement (at least for the time being). I researched sleeping options A LOT when my son began getting close to the weight limit on our bassinet and found no suitable alternatives (at least for me). Most sites I visited suggested moving baby to the nursery once he/she outgrew the bassinet, but NOPE, this momma wasn't ready for all that. Finally, I came across the mini crib while searching Amazon one evening & knew this was the solution to our dilemma. Just like any change in routine, adjusting from the bassinet to the mini crib took some time, but my little man finally began sleeping through the night. This mini crib has three adjustable height levels and plenty of room growing room for my guy. The crib is a lovely addition to our bedroom and matches our furniture perfectly. We will also get use out of it for years to come as it also converts into a toddler bed and daybed–we felt this was well worth the cost of the crib.
The Pack & Play has been very useful for us. During the newborn days, the bassinet feature gave our little guy a place to rest safely in our living room. Nowadays, he loves playing with his favorite toys on the porch in the Pack & Play. It's easy to move, collapse and open back up, & travels well. For us, this has been a must have item.
Nursery
Honestly we didn't purchase a lot for our nursery. I re-purposed several pieces of furniture for my little guy's room instead of purchasing brand new items. In fact the only new nursery item we needed was a rocker, and our rocker was a gift from my parents–so technically my hubby & I didn't buy any nursery furniture.
Baby Relax Hudson Upholstered Wingback Nursery Room Rocker

This rocker is a beautiful addition to our nursery & it's quite comfy. I've spent hours rocking my little guy in this rocker & it has held up well; in fact it still looks & feels brand new. When searching for a rocker I looked for 1. Durability, 2. Style & 3. Value. We were a bit more extravagant with the rocker as I knew we would spend a lot of time in it. This rocker has definitely not disappointed.
Just because we didn't spend a lot of money on the nursery doesn't mean we didn't create my dream nursery. I absolutely LOVE the nursery we created for our little man & I will dedicate a post solely to our nursery in the near future–stay tuned.
Feeding
Dr. Brown's Bottles


We used several different brands of bottles with our little man & realized that, for him, Dr. Brown's were the best. The vented system inside the bottles prevented a lot of air from getting into him, which, in turn, really helped with reducing painful gas & spit-up episodes. He has had no problems whatsoever with gas or spit-up after using these bottles. Because of the unique vented system, Dr. Brown's bottles do have a lot of pieces included with them, so it does take a bit longer to clean them than other bottles, but the extra time is definitely worth it. Dr. Brown's also are a bit more expensive than some other brands, but the few extra dollars are worth it when it comes to the comfort of my baby. I'm so glad we discovered Dr. Brown's bottles & I highly recommend them!
Summer Infant Classic Comfort Wooden Highchair


I wanted a high chair that was. 1. Comfy for baby, 2. Durable, & 3.would grow with my little guy. I decided to go with a wooden chair as I felt it would blend well in our dining room as the wooden chair offers a classic look. We have been pleased with this chair as it has exceeded expectations. Clean up is a breeze as the fabric insert is machine washable & the tray is dishwasher safe. Most important, my son loves this chair–he's always excited when it's time to get in it & he's happy & content during feedings. Great Highchair, good value, lovely finish, HAPPY BABY!
Diapering
Diapers. Lots of diapers. Every size. All the diapers.
I'm not pinpointing a specific brand because all babies are different when it comes to what works best. We learned through trial and error what worked best for our son & this is my advice to all new parents. What works for us may not work for you, so take advantage of all those different brands you receive at your shower to determine what works best for your little bundle of joy. #LotsOfDiapers
Wipes. Yep, you'll need lots of these too.
Same as diapers–use different brands & determine what works best for your baby & you.
Bathing

I fell in love with this tub from the moment I first saw it. I love that it has a digital temperature feature so you don't have to worry if baby's water is too cold/hot. I also love that the dirty water is automatically filtered out & constantly replaced with clean water–this is ESPECIALLY nice when baby has a diaper explosion & nothing but a bath will clean that mess.
However, I did not love the price of the tub & felt it was out of my tub price range. I frequented our local children's consignment & secondhand stores & as luck would have it, I found this tub at one of my favorite stores for a fourth of the original price. SCORE! I was thrilled to find the tub I wanted at a price well within my budget.
Folks, shop consignment & secondhand whenever possible–babies outgrow everything too quickly & consignment  items often look brand new (& many times they are)!
Clothing
Four words = CONSIGNMENT and SECONDHAND STORES. Seriously, they grow so fast that they'll barely have time to wear everything in their closet. Use that money you save by purchasing secondhand clothes on diapers. SERIOUSLY. #LotsOfDiapers
Miscellaneous Goodies
My lil guy did NOT prefer pacifiers. However, the Wubbanub was different. When he wouldn't take a traditional paci, he had no problem with his Little Fox Wubbanub; the design made it easier for him to handle & he didn't spit it out as often as a traditional paci.
Infantino Go Gaga Tummy Time Mat
My little man has enjoyed this tummy time mat since back in his newborn days! He began noticing himself in the detachable mirror at one month old & loved the little attached toys on each side of the mat. As he gained neck strength and head control, he enjoyed admiring himself that much more. The attached toys still keep him engaged at 8 months old. The little cushion provided much needed support for him as he worked on strengthening his core.
Infantino Go Gaga Playtime Pal Giraffe
Mirrors, chew rings, crinkle features–what's not to love?! This has been one of my little man's favorites since we first brought him home from the hospital. I cannot say enough good things about this toy!
Dr. Brown's Teether Ridgees Giraffe
My son began teething at 3 months old; however, his first tooth didn't pop through until the six month mark. No matter, he needed something to help soothe those aching gums from the get-go, so we tried this Dr. Brown's teether. I was so impressed by how well Dr. Brown's bottles worked for my little man that I chose to go with the Dr. Brown's teethers and was not disappointed. My son reaches for this teether throughout the day, and it helps keep him comfortable when new teeth begin irritating his sensitive gums.
Various Receiving Blankets
I'm such a fan of the receiving blanket & I use them all the time! I purchased a bunch of these in bulk at consignment stores for practically nothing. I found that they are better burp clothes than the traditional burp cloth because they're bigger & easier to lay across my shoulder. I use them to lay under my guy during diaper changes, after bath drying towels, & of course as a blanket for my little guy. Receiving blankets are definitely on my must-have list.
---
All the items listed above have been lifesavers for me over the past 8 months. As you create your own baby registry, I hope these ideas are helpful for you & help alleviate some of the stress that can accompany that process.
What are/were your must-have baby gear & items??? I'm always interested in hearing opinions and advice from other been there, done that moms!
Thanks again for visiting & I'd love to chat with you about your fave baby stuff!
Lori
Let's connect on social media! You can find me on Facebook at Becoming Dr. Lah, on Twitter @Lah1219, on Instagram @becomingdrlah & on Pinterest at lorilah.